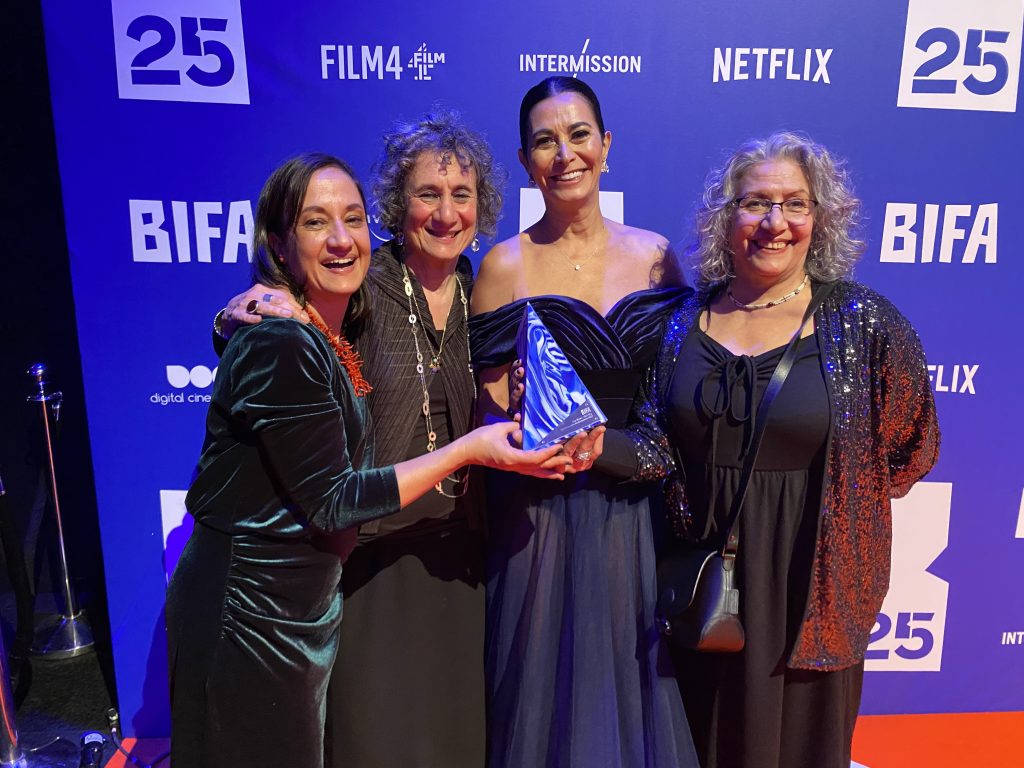 Press Release
6 December, 2022
Kulshi Makoo (English title: OUR RIVER…OUR SKY) had its UK premiere at the Raindance Film Festival in London in October 2022
It was the only Arab film to win an award at this year's British Independent Film Awards, where it was nominated tor 3 awards:
Zainab Joda in the role of Reema for best supporting actor, Leila Bertrand for casting and
the entire cast of the film for best ensemble performance, which it won.
This was a collective prize for all the many actors in this multiple-story film.
At the prestigious event, held on Sunday, December 4th in London
the award was presented to director Maysoon Pachachi, and attending actors:
Darina El-Joundi, Basim Hajar, Badia Obaid and Meriam Abbas
The film had its World premiere at the Sarajevo Film Festival and after that was screened at the San Francisco Arab Film Festival, Cairo International Film Festival, Arab Film Festival in Berlin, Regard Sud Arab Film Festival in Lyon, France at the Ciné Lumière,
the Institute of the Arab World in Paris, Slemani International Film Festival
Trivandrum International Film Festival, Kerala, India, Alfilm Arab Film Festival in Berlin, MALMO Arab Film Festival in Sweden, ROTTERDAM Arab Film Festival, AMMAN International Film Festival, Festival du Film Arabe, Metz, France, Festival Du Film Franco-Arabe, Romainville, Paris, France, Casablanca International Film Festival, Morocco.
Recent screenings have been at the Doha Film Institute and the Franco-Arab Film Festival in Baghdad.
–
The film is set in Baghdad in the last week of 2006, between Christmas and Eid Al Adha. It tells the intersecting stories of residents in a mixed neighbourhood, as they try to hang on to a sense of normality and live their daily lives in spite of the intense violence and nightly curfews with which they are having to live. At the heart of the film, is the story of Sara, a writer and single mother, trying to protect her daughter, shocked into silence by the violence and not able to write one word of fiction anymore. As the year ends, Sara and her neighbours face an uncertain future as they try each day to renew a fragile sense of hope.
"Kulshi Makoo" (Our River…Our Sky) was directed by Maysoon Pachachi and co-written with Dr. Irada Al-Jubouri . It features
Darina Al-Joundi, as Sara, Basim Hajar, as Kamal, the taxi driver, Meriam Abbas as Dijla, his sister, Zainab Joda as Reema, Sara's daughter, revered Iraqi actor Mahmoud Abu Al-Abbas,as Abu Haider, Zaydun Salman Khalaf as Kareem the baker, Sami Al-Ali as Nabil, Amed Hashimi as Yahya, Sara's brother, Labwa Arab as Kamal's pregnant wife and Ali Kareem as the boatman, among many others.
MAD Solutions distributes the film in the Arab world and North Africa.
The world sales agent is The Party Film Sales in France.