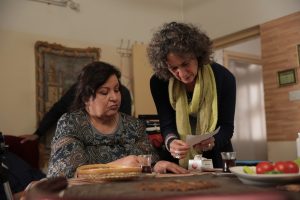 When the world inside and outside us is fragmenting, how do we keep a sense of our self and our story, how do we hold our life together? Can we be true to our values and beliefs? What do we tell our children? Can we retain any sense of community? How?
This is what our film is about and was in part inspired by dialogue and scenes, which I and my co-writer, Irada Al-Jubori, heard and saw in Iraq in 2006/7. Using this real-life source material as a springboard, we created our fictional narrative, making the feelings of our characters present in the way that drama makes possible, while at the same time, trying to express the energy, danger, and chaos of the wider reality in which they live.
We shot our film in Iraq, in Sulaymaniyah and Baghdad, in 2019
Our resourceful multinational team managed to find solutions to all the many unexpected challenges we faced.
Between us, we spoke 5 different languages on the set – English, Arabic, French, Kurdish, and Farsi – This was both a joy and a challenge. Somehow, we managed to communicate with each other on both a professional and personal level and to really enjoy our artistic collaboration.
I'm very grateful to the extraordinarily generous-spirited people who gathered around me to make this film, both on the shoot and in the years before and after that. Without them all, the film simply wouldn't have happened.